By David Crane
defrev at gmail dot com
November 24, 2008
Updated on May 6, 2009
Ever since he won the presidential election, the press has been following President-Elect Barack Obama around Chicago like a bunch of hungry (and annoying) puppies. Whether he's going to his transition office in the Kluczynski Federal Building in the Loop (dowtown Chicago professional district, south of Wacker Drive) or hitting the East Bank Club (EBC) for a little bit of b-ball (i.e. basketball, for those who don't play) and working out, the media's been on him like white on rice.
Now, normally, DefenseReview (DefRev) couldn't care less, but one of the many shutterbugs on Obama's tail, one Charles Dharapak (for the Associated Press), shot the accompanying photo (top, right) of a five-man U.S. Secret Service Presidential Protective Division (a.k.a. "Presidential Protective Detail", a.k.a. "Presidential Protection Detail") Counter Assault Team–or, SS PPD CAT, for short–in one of the SUV war wagons as they escorted Obama to a private meeting at the FBI building (in Chicago) on Thursday, November 6, 2008. While the photo is lo-res, it's still adequate for identifying some of the tactical hardware/tech that the team uses. Note: this photo (top, right) is an enlarged version of the photo located at the bottom of the article, which is the original version. Being lo-res, the enlarged version gets a bit blurry when you view it full-size.
The primary subject of the photo is the…

trunk monkey (rear door gunner), who's equipped with some tactical hardware that we're going to do our best to identify. Understand that we're working with a single lo-res photo, and thus only one angle.
O.k., the trunk monkey's primary weapon is a tactical AR carbine/subcarbine/SBR (AR-15 carbine/subcarbine/SBR) with a barrel that appears to be approx. 12.5-14.5 inches in length. It's most likely a KAC SR-16, which is a Colt M4A1 Carbine (select-fire, direct-gas-impingement)-derivative weapon. "KAC" stands for Knight's Armament Company. From the photo, it doesn't look like an HK416 (also written HK 416) gas piston/op-rod carbine or SBR (Short Barelled Rifle)/subcarbine. The weapon is outfitted with some tactical accessories, including what appears to be an Aimpoint CompM2 – M68/CCO or CompM3 red dot optical gunsight/combat optic, although it's got some weird stuff happening on the top/rear/right (from the operator's perspective/POV). It doesn't appear to be the more advanced Aimpoint CompM4 or CompM4S. The weapon is also equipped with a front flip-up BUIS (Back Up Iron Sight) that we presume is co-witnessed with the red dot optic. There's most likely also a rear flip-up BUIS that's being blocked by the operator's right hand.

Mounted on the Mil-Std-1913 "Picatinny" (quad) rail system/forend rail tube at the 3-o'clock position is an Insight Technology ATPIAL (Advanced Target Pointer/ Illuminator/ Aiming Light) a.k.a. AN/PEQ-15 (NSN #: 5855-01-534-5931) Visible/IR (infrared) laser aimer/illuminator, which is a nice unit. The AN/PEQ-15/ATPIAL is currently in use with U.S. military Special Operations Forces (SOF) units, including U.S. Army Special Forces (SF) units, overseas.
At the rail's 6-o'clock position is a tactical white light, possibly a Surefire M900 Series Vertical Foregrip WeaponLight or some other type of Surefire WeaponLight designed for rifles, carbines and subcarbines/short-barreled rifles (SBRs), but it could also be a different brand tactical weapons light. We can't tell from the photo. The operator's left hand appears to be grasping a vertical foregrip. The 30-round magazine appears to have a dual mag clamp of some kind on it (like a Buffer Technologies AR-15 MAG CINCH for 30-round mags, for instance) for a fast/immediate weapon reload. No doubt, the tactical body armor carrier sytem the operator is wearing incorporates multiple AR-15 mag pouches, most-likely at least 6-12 spare loaded 30-round mags (5.56mm AR mags) in them, with more spare loaded mags stored inside the vehicle.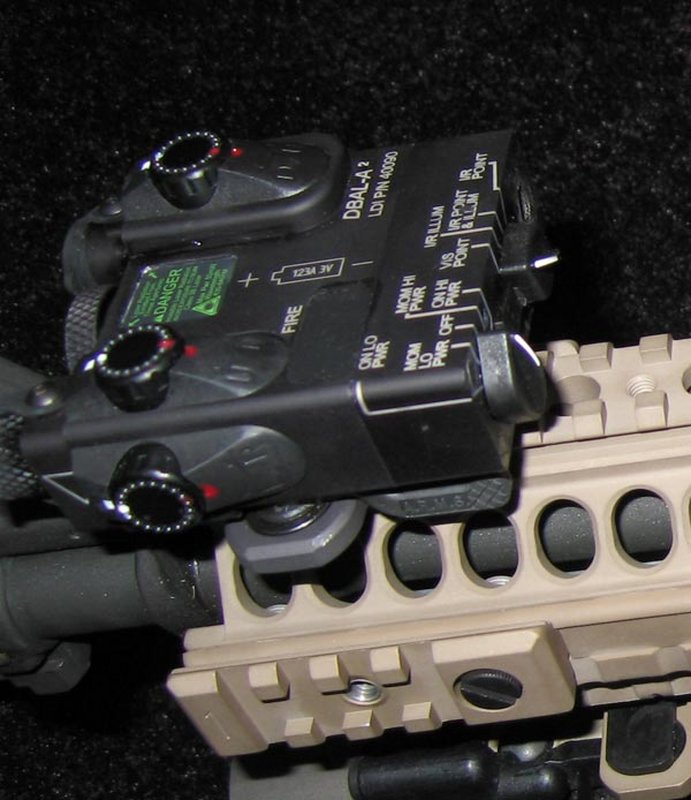 Another required element of the trunk monkey's tactical loadout is a pair of cool guy shades. We were first informed by someone at Oakley that he's wearing Oakley SI Flak Jacket XLJ tactical eyepro (tactical eye protection) a.k.a. tactical eyewear a.k.a. tactical sunglasses. However, we've been looking at the SI Flak Jacket XLJ and the trunk monkey's eyepro, and we're no longer confident that he's wearing this model (Flak Jacket XLJ). It looks to us like he's wearing a different model, especially if it's the same model that the left window licker (left-side door gunner) is wearing, since the lens of that sunglass appears to be completely enclosed by the frame, which is not the case for the Flak Jacket XLJ. The photo could show one or more of the following Oakley Military & Government/US Standard Issue (USSI) Tactical EyePro models: SI Monster Pup, SI MONSTER DOG, SI Fives 3.0, SI Canteen, SI GASCAN, SI GASCAN S, or some other Oakley full-frame tactical sunglass. We just can't tell.
Whichever model the operators are wearing, Defense Review hopes they have polarized lenses, so the operators can see through vehicle windshields, and into the interior of the vehicles, easily–and are thus able to see what the occupants in those vehicles are doing. In our opinion, polarized lenses are simply a must for any type of PSD (Personal Security Detail a.k.a. Personal Security Detachment) job, bright sunlight or not.
We can't identify the operator's tactical shooting gloves, either. If someone knows which make and model they are, please drop us a line.
Finally, he's most likely employing some type of one point sling a.k.a. single point sling, although this is just an educated guess.

DefRev Recommendations:

Even though Secret Service PPD Counter Assault Team (CAT) operators will most likely utilize controlled/aimed, rapid semi-auto fire in most situatons (if, God forbid, they have to use their weapons at all), there are certain situations where controllable full-auto suppressive fire and/or targeted full-auto fire aimed at a specific hostile subject or multiple subjects may become advantageous. For either scenario, DefenseReview highly recommends the FERFRANS Specialties Rate Reduction System (RRS) for the Counter-Assault Team's tactical AR carbines, as it will make the weapons significantly more controllable, and therefore useful, on full-auto. The RRS works independently of the gas system to bring the weapon's cyclic rate of fire down under the 700 RPM threshold, so you don't lose any reliability. DefenseReview has discussed the FERFRANS RRS in previous articles.
Actually, it would behoove SS PPD CAT to T&E both the FERFRANS direct-gas-impingement (DGI) SOAR and Piston-Driven SOAR select-fire AR-15 carbines and SBR/subcarbines in both 5.56mm and 6.8mm. The FERFRANS SOAR tactical SBRs and carbines are the most controllable full-auto AR SBRs and carbines we've ever tested. "SOAR" is an acronym for "Special Operations Assault Rifle".
While the Insight Technology ATPIAL/PEQ-15 Visible/IR Laser Aimer/Illuminator is an excellent unit, Laser Devices makes a similar device called the DBAL-A2 (Dual Beam Aiming Laser-Advanced 2) (NSN #: 5855-01-535-6166) that delivers comparable performance in a more compact package. The ATPIAL and DBAL-A2 are both excellent products, and DefenseReview would have to do a side-by-side test to determine which is superior. Since the DBAL-A2 is smaller, it takes up a little less real-estate on the rail.
Regarding combat optics a.k.a. optical gunsights, we can recommend a few. For CQB/CQC applications, we like the Aimpoint CompM4S, Aimpoint Micro T-1 compact red dot sight, and L-3 EOTech 550 series (L-3 EOTech 552, EOTech 553, etc.) Holographic Weapon Sight (HWS) a.k.a. Holographic Diffraction Sight (HDS) a.k.a. HoloSight. We recently combined the Aimpoint Micro-T1 mini red dot sight with the Aimpoint 3XMag magnifying module during our range session with the FERFRANS piston-driven SOAR SBRs. Since we like the EOTech 552, we really like the Laser Devices EOLAD-1V Laser Aiming Device/EOTech 552 combo unit.
For CQB-to-medium range tactical engagements, we like the GRSC Combat Rifle Scope (CRS), which is a 1-4X (1x4x24) scope. The CRS utilizes GRSC's proprietary and intuitive M4-62 General Purpose Combat Reticle (GPCR). We also like the Trijicon AccuPoint 1.25-4 Advanced Dual-Illuminated Riflescope Optimum for a 1-4x category scope. We've also used a Trijicon TA11 ACOG 3.5×35 scope with donut reticle.
Whichever of the above weapon optics you use, we recommend LaRue Tactical optic mounts to mount them. LaRue Tactical makes the best optic mounts we've ever used. LaRue also makes some of the best Mil-Std-1913 "Picatinny rail systems/forend rail tubes for AR-15 carbines and SBRs out there.
It's our understanding that Samson Manufacturing Corporation (SMC) also makes excellent rails and optic mounts, but we haven't tested any Samson products ourselves, yet. We have viewed and handled them, however, and they look good. If you buy a Stag Arms tactical AR-15 carbine or SBR with a factory-equipped rail on it, it's going to be a Samson Star System rail, and that says something.
If the PPD CAT's tactical ARs are currently chambered in 5.56x45mm NATO (5.56mm NATO)/.223 Rem., we'd recommend that they bump them up to 6.8x43mm SPC (a.k.a. 6.8mm SPC a.k.a. 6.8 SPC) for enhanced hard target/intermediate barrier penetration and terminal ballistics at likely tactical engagement ranges. It goes without saying that if PPD CAT has to go to guns, something's gone terribly wrong. However, if the situation devolves to that worst-case scenario, you want to be able to put a hostile subject (or multiple subjects) down as quickly as possible. The 6.8mm SPC will give you the best terminal ballistics the tactical AR (AR-15 carbine, not AR-10 carbine) can offer within the 500-yard envelope, which should be more than enough range. Anything past that, and you want to go to 6.5 Grendel, 7.62x51mm and up in caliber/power.
Silver State Armory (SSA) makes excellent 6.8mm SPC ammo, by the way.

On the subject of 6.8mm, Kramer Defense (KD) has developed a 6.8mm cartridge called the 6.8x45mm Kramer Urban Combat Cartridge (UCC) that utilizes a 5.56mm NATO cartridge case and is supposed to offer almost equal velocity and terminal performance to the 6.8 SPC. The 6.5 Grendel (a.k.a. 6.5mm Grendel) is also a highly effective cartridge, but for CQB/CQC-to-medium range, the 6.8 still has the edge. The 6.5mm, however, has superior long-range performance.
If PPD CAT's weapons are 5.56mm, and they want to stick to that cartridge, we've got a few recommendations for ammo options based on PPD CAT's mission-specific needs. One option is to go to a combination of a 1:14 twist (1-in-14" twist) barrel and 55-grain ball ammo (like M193) for maximum terminal ballistics and tissue destruction/disruption in a standard factory 5.56mm ball round. The downside of that route is reduced hard target/intermediate-barrier penetration (including vehicle penetration) capability. A second option is keep the 1:7 twist (1-in-7" twist) and utilize soft point or hollow point ammo, which would provide similar enhanced terminal ballistics and tissue destruction/disruption as the 1:14 twist/55gr ball combo, but would also come with the same intermediate barrier/vehicle penetration deficite. Going to the M995 AP (Armor Piercing/Armor Penetrating) 5.56mm NATO round, of course, would solve the under-penetration-against-hard-targets problem, but would most likely create an overpenetration-against-soft-targets (i.e. people) problem. It's our understanding that the M995 AP round also has some accuracy issues (unconfirmed/unverified). However, it's still a potential option in situations/scenarios where hard-target penetration is the CAT team's primary goal. A fourth option is to keep the 1:7 twist and utilize the new 5.56 Optimized/Brown-Tip ammo, which was designed specifically to achieve maximum terminal performance out 10.3" to 14.5" barrels. Finally there's Le Mas (also written LeMas) BMT APLP 5.56mm ammo, which simultaneously offers significantly-enhanced hard target/intermediate barrier penetration and live tissue destruction/terminal ballistics (with reduced over-penetration) over standard M855 ball/SS109 at distances up to 200-300 yards, perhaps the best of all worlds for CQB/CQC (Close Quarters Battle/Close Quarters Combat) applications. LeMas BMT APLP ammo's only caveats are 1) its limited effective range, due to its low grain weight, and 2) its greater cost. Le Mas ammo isn't cheap. Fortunately for the Secret Service PPD CAT, money is no object when you're protecting POTUS. So, option five may just be a winner. The CAT would have to test and evaluate it (ideally under simulated operational conditions) to be sure.
If they're using USGI M16/M4/M4A1/AR-15 5.56mm mags, we'd recommend one of the MagPul USGI Mag Rebuild Kits. If they're willing to look at an aftermarket 30-round AR mag, we'd recommend they look at several. First are the MagPul PMAG and MagLevel PMAG polymer magazines. Regarding polymer AR-15 mags, they might also want to take a look at TangoDown's new polymer mag. We don't have detailed info on it, yet, but we hear it's pretty good. It's definitely worth a T&E. Last up is the Fusil-USA spring steel M16/M4/AR-15 magazine, which is supposed to be significantly superior in strength and reliability to aluminum USGI mags, while weighing only a couple of ounces more. However, we haven't tested the Fusil AR mag, either, yet.

We'd also recommend that PPD CAT utilize some quality 7.62x51mm NATO (7.62mm NATO)/.308 Win. battle rifle/carbines (either DGI or piston-driven). The AR-config HK417 (also written HK 417) 7.62mm piston-driven carbine is already in U.S. military Special Operations Forces (SOF) use, including U.S. Army Special Forces (SF) use, and we'd be surprised if the Secret Service hadn't already tested it for their purposes. It would be interesting to see what the PPD CAT operators think of the SRSS BullDog 762 Bullpup M14/M1A battle rifle/carbine, if they ever test it. Based on our limited experience with it, we think the BullDog 762 is at least worth a test. It's a very cool piece of hardware, and definitely worth a look by any tactical or Special Operations (SPECOPS) team.
You'll notice in the (top, right) photo that the operator's weapon isn't outfitted with a muzzle can (a.k.a. sound suppressor a.k.a. silencer). Suppressed weapons would significantly enhance the team's ability to communicate with each other during a firefight, which is a big plus. A sound suppressor also suppresses muzzle flash and aids night vision during a night fight, even when the operator's wearing NODS (Night Observation Devices) or utilizing a night scope. Of course, you don't need a silencer for flash suppression. An AAC Blackout open-prong flash hider/suppressor or B.E. Meyers/Surefire open-prong flash suppressor/hider will do the job just fine, and still allow you to quick-attach a can (silencer/sound suppressor) if necessary.
The primary negatives in using a suppressor are increased weapon length and weight, and increased blowback of gas and particulate matter into the shooters face, particularly when shooting a DGI weapon. That's why, if you're going to use a suppressor with a direct gas AR, you should switch out the standard cocking/charging handle with a Precision Reflex, Inc. (PRI) M84 Gas Buster Charging Handle-Military Big Latch.
Advanced Armament Corp. (AAC), Gemtech, OPS, Inc. and Surefire all make high-quality suppressors for select-fire 5.56mm weapons.

Finally DefRev would highly recommend that the Secret Service PPD Counter-Asssault Team (CAT) take a very close and serious look at the new Personal Protective Systems (a.k.a. P2 Systems a.k.a. P2Sys) Legion-I Tactical Vest and Cohort-1 Tac Vest tactical vests/body armor carrier systems as a tactical body armor option for their operators. The Cohort-I, being even lower-profile than the Legion-I, is particularly well-suited for vehicle deployment, and would probably be the best bet for them. We've had a sample Legion-I tac vest/carrier for a few weeks, now, and it's the most well-designed, comfortable and advanced tactical vest/body armor carrier system (non-quick-release) that we've ever tried. Its unique, large pull-tabs/pull-handles and shoulder and side-flap attachment method make both donning and releasing it fast and easy, without being too easy to release (by the enemy or the wearer).
The Legion-I is the fastest and easiest non-quick-release tactical vest/body armor carrier system to take off in a hurry during an emergency release procedure that we've ever tried, and the Cohort-I is just as fast. The man who designed and developed them, Thomas C., is a PSD operator/contractor for a large PSC/PMC (Private Security Company/Private Military Company), and he's got an obvious and definite talent for designing and developing hard-use, mission-specific tactical hardware and gear. DefenseReview will be publishing an article on the P2 Systems Legion I and Cohort-I tactical vests, soon, as both are highly impressive pieces of tactical gear.
Oh, and if you go with the P2 Systems Cohort-I Tactical Vest/tactical body armor carrier system, you might as well rig it with the Gen II FAST MAGS Rapid-Change Magazine Carrier, which P2 Systems also markets and sells to round out their carrier package. The Gen 2 FAST MAGS polymer mag carrier allows you to carry spare loaded 30-round AR mags securely in an inverted orientation (i.e. upside down) for enhanced reloading ergonomics and speed.
It's possible that the STRAC Technologies ST-1 F.A.S.T. System Mag Carrier/Feeder System (for ultra-fast weapon reloads) can also be integrated with the Legion-I and Cohort-I tactical vests. We'll try to find out.
Understand that we're just recommending potential tactical hardware, gear and accessories options for agency review, here. The Secret Service would of course have to conduct its own stringent testing and eveluation (T&E) protocols on any new item/product to see if it passes muster for PPD/CAT applications/operations.

Author's Note: On a personal note, I've run into many Secret Service personnel at the various industry shows over the years, including SHOT Show, and I've always found them to be intelligent, professional and dedicated to their work. Their work is important, and it's not easy. Fortunately, they're great at it, but it must be a particularly colossal pain in the ass for them (Secret Service PPD/CAT) to deal with downtown traffic in the Loop every day while protecting the President-Elect.

Reader Feedback:
Defense Review requests our readers' feedback on this story in case we've made any errors or missed anything in our photo analysis regarding tactical hardware/technology identification. We don't mind criticism, as long as it's constructive. Understand that we were working from a single, lo-res photo. We did our best on short notice.
Above Photo(s) Content and Credits (from top):
Photo 1: Secret Service PPD CAT. Photo Credit: Charles Dharapak for the Associated Press (AP)
Photo 2: Insight Technology ATPIAL/PEQ-15 IR/Visible Laser Aiming/Illumination Device, courtesy of Chen Lee (SMGLee)
Photo 3: Laser Devices DBAL Visible/IR Laser Aimer/Illuminator, courtesy of Chen Lee (a.k.a. SMGLee)
Photo 4: DefRev editor David Crane with FERFRANS Gas Piston/Op-Rod SOAR SBR outfitted with OPS, Inc. suppressor), courtesy of DefenseReview
Photo 5: 6.8mm Kramer and 5.56mm NATO Side-by-Side, courtesy of Kramer Defense
Photo 6: DefRev editor David Crane with SRSS BullDog 762 Bullpup M14/M1A rifle/carbine, courtesy of Defense Review
Photo 7: P2 Systems Legion-I Tactical Vest outfitted with FAST MAGS mag carriers and topped off with the very cool (and seriously nasty) P2 Systems Manticuda VFK tactical knife (tactical fixed blade), which has been garnering a lot of positive attention and interest at some recent blade/knife shows.

Original Photo (Original Size):

Photo Credit: Charles Dharapak, Associated Press (AP)

Company Contact Info:
Knight's Armament Company (KAC)
701 Columbia Blvd.
Titusville, FL 32780
321-607-9900 Main Number
321-607-9900 Ext.1330 Domestic Sales Number
321-607-9956 Foreign Sales Number
[email protected] Military Sales Email
[email protected] Commercial Sales Email
http://www.knightarmco.com Website
Colt Defense LLC
547 New Park Ave
West Hartford, CT, 06110
800-241-2485 Toll Free
860-232-4489 Office
860-244-1442 Fax
http://www.colt.com/mil/home.asp Website

FERFRANS Specialties:
Ferdie Sy
FERFRANS Specialties
2649 E. Valley Blvd., Suite D
West Covina, CA 91792
626-893-8155 Office
[email protected] Email
http://www.ferfrans.net Website
Mailing Address:
FERFRANS Specialties
214 Calle Moreno
San Dimas, CA 91773
909-599-8094 Office
Aimpoint Inc.
14103 Mariah Court
Chantilly, VA 20151-2113
Phone: 703-263-9795
Toll Free: 877- 246-7646 (877-Aimpoint)
Fax: 703-263-9463
E-mail: [email protected]
Homepage: www.aimpoint.com
Aimpoint AB
Jägershillgatan 15
SE-213 75 Malmö
Sweden
Phone: +46 40 671 50 20
Fax: +46 40 21 92 38
E-mail: [email protected]
Homepage: www.aimpoint.se
Russ McCallister
L-3 EOTech
1201 E. Ellsworth
Ann Arbor, Michigan 48108
734-741-8868 Office
734-741-8221 Fax
[email protected] Email Product Info
http://www.eotech-inc.com Website

Insight Tech-Gear / Insight Technology
23 Industrial Dr.
Londonderry, NH 03053
877-744-4802 Toll Free
603-668-1084 Fax
[email protected] Email
http://www.insighttechgear.com Website

Laser Devices, Inc
2 Harris Court, Suite A-4
Monterey, CA 93940
800-235-2162 Toll Free
831-373-0701 Office
831-373-0903 Fax
http://www.laserdevices.com/
LaRue Tactical
850 County Road 177
Leander, Texas USA 78641
512-259-1585 Office
512-259-1588 Fax
[email protected] Email
http://www.laruetactical.com Website
Samson Manufacturing Corp.

110 Christian Lane

Whately, MA 01373

888-665-4370 Toll Free

413-665-1162 Office

413-665-1163 Fax

[email protected] Sales Email

http://www.samson-mfg.com Website
Oakley Military & Government Sales / US Standard Issue (USSI)
800-525-4334 Office
http://www.usstandardissue.com Website
TangoDown, LLC
1588 Arrow Highway, Unit F
La Verne, CA 91750-5334
Phone: (909) 392-4757
Fax: (909) 392-4802
Sales Email: [email protected]
Cage code: 3BLZ8
Website: http://www.tangodownllc.com
Sgt. Richard Cabral, CEO
Short Rifle Stock Systems Inc. (SRSS)
P.O. Box 3940
Crestline, CA 92325
909-338-2577 Office
[email protected] Email
http://www.shortrifles.com Website
Thomas C., CEO
Personal Protective Systems (a.k.a. P2 Systems a.k.a. P2Sys)
1521 N. Argonne Rd., #C206
Spokane Valley, WA 99212
509-209-1767 Office
[email protected] Email
http://www.p2sys.com Website

Related Articles:
FERFRANS Gas Piston/Op-Rod SOAR Tactical AR-15 SBRs and Carbines for SPECOPS
FERFRANS Combat Rifles and GRSC Combat Rifle Scope (CRS) at the Range
FERFRANS Ultra-Concealable Piston-Driven 6-inch AR Subcarbine/SBR (Video!)
SRSS BullDog 762 Bullpup M14/M1A Battle Rifle (7.62mm) Range Session
Oakley Tactical Eyewear: Ballistic Eye Protection (Eyepro) for Tactical Shooting

LWRC M6A2 Gas Piston Weapons at NDIA Small Arms Symposium 2007
6.8x45mm Kramer Urban Combat Cartridge (UCC) for Urban Warfare Ops
Colt M4 Carbine's Future Uncertain: Dark Clouds Forming
5.56 Optimized/Brown-Tip Ammo: Enhanced Terminal Ballistics for SpecOps SBRs

Dr. Sydney Vail's Report on LeMas BMT Ammo (Live Animal Tests)
Le Mas Ltd./RBCD Armor-Piercing 'Smart' Ammo for Counterterrorism Applications
HK417 Weapon System: HK416 5.56 Carbine Gets a 7.62mm Big Brother
HK416 Piston-Driven 5.56 Carbine and High-Reliability 30-Round Steel Mag

Laser Devices Inc. Dual Beam Aiming Laser-Intelligent (DBAL-I) at SHOT Show 2005
Laser Aiming/Illuminating Devices for Faster Target Acquisition and Enemy Kills
Latest Advanced Armament Corp. (AAC) Silencers for Tactical Firearms (Photos!)
DefRev Photo Analysis: U.S. Secret Service PPD CAT Operator Tactical Hardware
by
David Crane